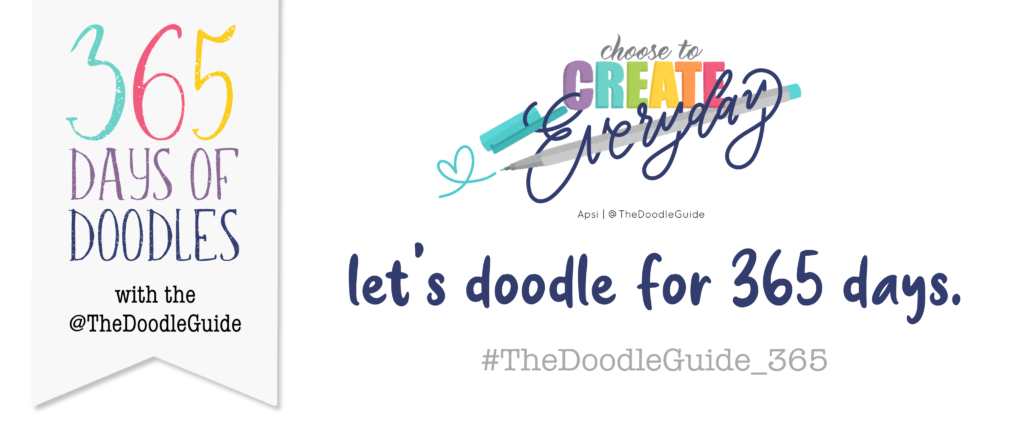 Before I ask you to join me to doodle for 365 days, I'd like you to know why I feel you should:
In 2015, at the age of 27, I started to draw during a rough patch in my life. Drawing was a means of refocusing my energy. I hadn't drawn in years, and I had to start from scratch. The only resources I had at the time was a pencil, three fineliners (in different widths)and a few loose printer pages from around the house, the only stationery I could afford at the time. Fastforward 18 months of drawing and doodling every day, I had started using this new found talent for paid work. I was freelancing for several companies, doing one off commissions and was in negotiations for a book deal.
I know times are tough right now, and because I know how much the habit of drawing daily helped me get through some of my darkest days, I'd love to invite you to experience what it can do for you too.
Grab the free resources I've provided below, and join the 365 day challenge.
There is no cost involved in joining in. However, there are paid resources that I will be releasing for each month of this challenge through my Patreon account (launching on the 1st of May) and my shop.
Become a Patron!
*These paid resources are not compulsory for following the doodle challenge.
Here's how you can join the 365 days of doodles:
There's no one right way to doodle, so in that same manner there is no one right way to doodle for 365 days. Here are some options on how you can doodle along.
Use one of the printable formats (monthly, weekly, four daily doodles per page or a full page per day) from the free booklet to draw on. Choose a format that works best for you.
Get yourself a (new, old or even half used) sketchbook and doodle as you wish.
Digital doodles are perfectly fine too. If you like to doodle on your iPad you're free to do so.
Doodle daily, whenever you can or catch up on multiple days in one sitting. How you wish to join in is totally up to you.
When you post your doodles, use the hashtags #TheDoodleGuide_365 and the monthly hashtag so that everyone gets to see your doodles. Remember to tag @TheDoodleGuide on the image so that your doodles get added to our page, under tagged photos. We, as a community, love to comment, give feedback, cheer you on and repost your doodles so that everyone else gets to see your work too.
Oh, and one last thing. Don't forget to create your own unique hashtag. Get creative, and make sure that your hashtag is your own, so that you can always look back at your amazing progress over the 365 days.
A couple of key point I must insist on:
First and foremost, DO NOT COPY. The doodles or illustrations that you post on social media for each day should be your own. Your main focus should be to find your own style.
Secondly, PRACTICE EVERY DAY. The more you do, the better you get at it. So, create something every day even if you feel like it sucks. Make sure you keep track of your progress by saving all your doodles and illustrations in a book or file or as a digital file. This part is important because this is what will keep motivating you for years to come.
So grab something to draw with and something to draw on. Take a few minutes to ease your mind and free your soul. Let your imagination run riot and put it all down on paper.
365 DAYS – May (Day 001 – 031)
365 DAYS – June (Day 032 – 061)
365 DAYS – July (Day 062 – 092)
365 DAYS – August (Day 093 – 123)